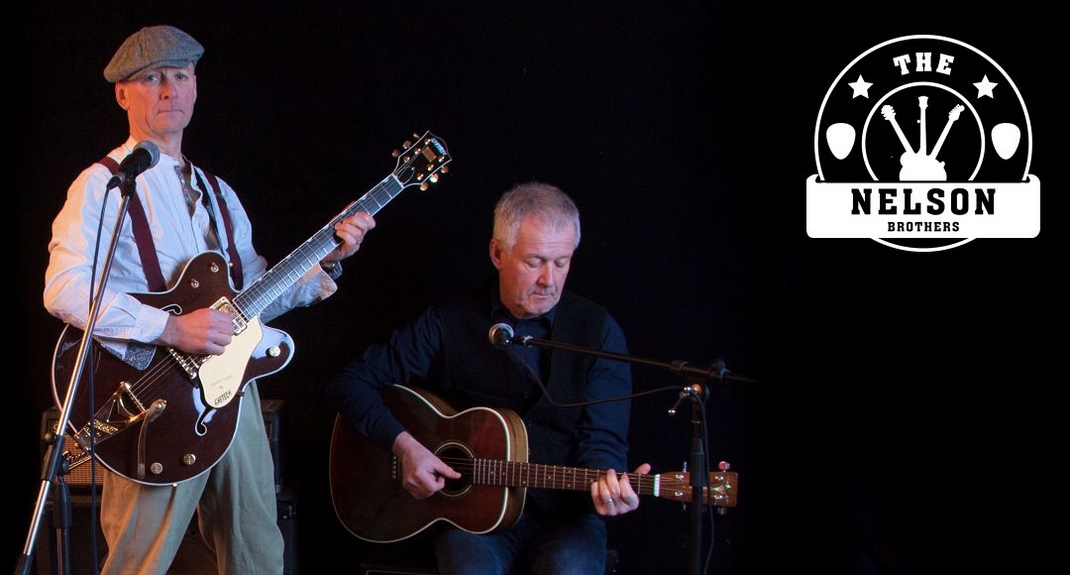 "We grew up in Stafford, in a house full of music. Our dad won a singing competition in Stafford Borough Hall when he was sixteen. He dabbled on the piano, banjo and clarinet and encouraged us to follow our dream. His record collection consisted mostly of American country music, Jim Reeves, Johnny Cash, Eddy Arnold along with other favourites like Al Jolson and Bing Crosby. All have had an influence on our musical styles.
In our late teens we were introduced to the folk world by our good friend Roger Peet: Bob Dylan, Joni Mitchell and Leonard Cohen and the brit folk of Donovan, Martin Carthy and Fairport Convention.
We left Stafford, guitars on backs, to pursue a full time musical career in 1976, heading off to Amsterdam, busking in cafes and bars for six months before returning for a summer season in Cornwall. Our big break came in '78 when we passed an audition to work in Bermuda on a twelve month contract. It was there, ironically, that we were introduced to traditional Irish music. Our great grandparents were Irish and we were of course familiar with the more commercial side of Irish folk, the Dubliners, Furey Brothers etc; but in Bermuda a whole new world opened up: Christy Moore, Paul Brady, Planxty.
All of these musical elements are fused together in our writing and delivery. Not country, not folk, not blues, not jazz, but a little of each. Some call it Americana but there is also an undeniable Britishness about our music."
The Nelson Brothers Biography
Returning to the UK in the 80's, the brothers worked the London wine bar circuit before Simon headed off for an eighteen month stint in Australia. Steve continued to work as a solo and both brothers continued to write. In the early 90's they signed a deal with Irish record label Round Tower. Their first album,
Hometown
, a gentle roots-rock classic, uniting Steve's rich vocals and Simon's sensational guitar playing, was released in 1993 and led to the Nelson's performing with a variety of international country and roots artists including singer-songwriters Tom Russell, Jim Lauderdale, Katy Moffatt, Kieran Kane and Kevin Welch.
The Round Tower connection led to interest from American songwriter/publisher Robert John Jones, who'd written for the likes of Buck Owens and Tammy Wynette. His organisation in Tucson, Arizona, was working with publishing company Windswept Pacific in Nashville and so started a period dividing their time between writing in Tucson and demoing material in Nashville studios with leading session musicians such as Kenny Malone, Dan Dugmore and Bryan Sutton.
Meanwhile, a songwriting session in Key West with R J Jones resulted in the bluegrass number
Last Truckstop Motel
which was recorded by award winning bluegrass guitarists and songwriter Molly Tuttle:
The Nelson's second album,
Places In The Heart
, released in 2009, combines the love of a good song with imaginative arrangements, creating a dark, smokey soundscape which elicited the following response from Elizabeth McGovern:
"The music and the voice and the lyrics all work together to convey a bittersweet, sad optimism that I find so appealing... romantic without being remotely saccharine and refreshingly grown up."
The brother's third album,
Sacred River
, flows with the gentle rhythm of their early work. Steve sings lead and plays rhythm guitar as usual, while Simon – also a leading session man who's played in TV concerts with Mavis Staples and Paul Jones, and at venues such as the Royal Albert Hall and 02 Arena with everyone from Joss Stone to Helen Shapiro to X Factor stars – sticks mostly to electric lead. The album features a host of talented musicians including Ben Nicholls on bass (Seth Lakeman/The Full English/Kings of the South Seas) and Terl Bryant on drums (Maddy Prior/John Paul Jones/Barbara Dickson).
Album number four,
Migrant Tales
, produced by Andy 'Wal' Coughlan and featuring a host of great players including the legendary Al Perkins on pedal steel was released in Spring 2018 to wonderful reviews:
"Ramblin'Man is a rugged slice of gutsy and atmospheric country… a perfect taster"
RnR
"The Nelson Brothers are undeniably very fine songwriters and musicians. The songs on this album are a wonderful synergy of thoughtful lyrics, accomplished music and resonant vocals, and reflect the many influences that they have been fortunate to experience over the years…. Migrant Tales leads the listener on a thoroughly enjoyable and evocative musical trip, it would be foolish not to get on board and share in their journey."
Folk Radio
"A gripping set that leaves you breathless with it's beauty"
★★★★★ Nick Dalton,
Maverick
"The album features a host of talent, and the musicianship is second to none. The result is a rich mix of emotional songwriting, understated arrangements, soundtracking vivid and descriptive tales, with some full-on bluegrass to boot." Rock Society.
"UK band does the prairie waltz with surprising conviction."
7/10
Uncut
In early summer 2019 the Nelson Brothers released
The Nashville Sessions
, an album of songs written and produced by Simon and Steve along with Nashville songwriters Troy Olsen and Robert John Jones. The songs were recorded in Nashville with a host of legendary musicians and singers including Jeff King, Kenny Malone, Dave Pomeroy, Bryan Sutton, Dan Dugmore and Gretchen Wilson.
"The Good In Goodbye…. a great upbeat country number sporting the line: You put the good in goodbye and the hell in hello…. The Hank Song…. in twangy Waylon-style…. is a down on my luck number that includes the great line: I'm just a song Hank Williams forgot to write…. Always Meant to Burn…. another great song with an underlying hint of Buddy Holly…. It's Yours really should have found its way to Tim MaGraw's inbox…. I don't know if any of these found their way onto any albums by any of Nashville's luminaries, but if they didn't then that's their loss and, in being gathered together here, our gain."
Mike Davies
FATEA Magazine