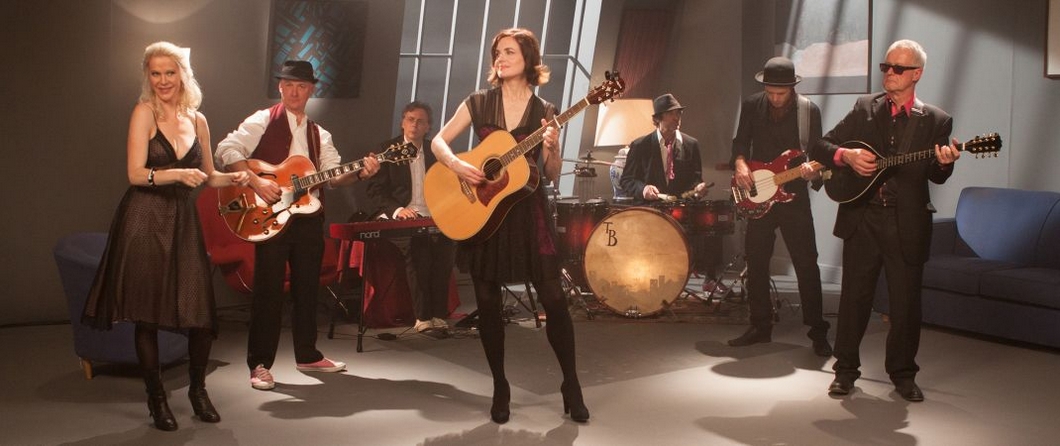 The Nelson Brothers and Elizabeth McGovern
It's an oft asked question - "How did the Nelson Brothers get involved with the band Sadie and the Hotheads with the oscar nominated Hollywood actress
Elizabeth McGovern
?"
There are two periods – pre and post Downton Abbey.
Steve ran an ad in the local paper - "Guitar Lessons – all styles. Phone 020…"
He had a response from a Ms McGovern. Not being film buffs we had no idea who she was, despite having seen some of the films: Ragtime; Once Upon a Time in America.
Elizabeth wanted to learn to play a few songs, "Oh, Leonard Cohen, Bob Dylan, Joni Mitchell." After a couple of lessons, and having written songs with brother Simon since he was seventeen, Steve suggested that Elizabeth start to pen her own material. She said she wouldn't know where to start, but she quickly got the bug and by the next lesson had written five! Being creative and arty, the songs, though primitive, were quirky and interesting. Steve introduced Elizabeth to Simon who began pre-production work on the songs that were to become the debut album 'I Can Wait'.
Simon introduced Elizabeth to some other quirky musicians who became dubbed, ironically, The Hotheads; Nick Lacey on keys; Rowan Oliver, highly creative, percussive drummer on loan from Goldfrapp; bass player/producer Ron Knights.
Meanwhile The Nelsons were aware that Ms McGovern hadn't yet paid her musical dues. So Simon and Elizabeth went on many a wild and reckless evening to open mic nights in 'interesting' London pubs. One night at The Castle, on Portobello Road, one punter said, "Hey, you used to be Elizabeth McGovern – I though you were dead!" How not to talk to people!
During this time Elizabeth and Simon were commuting from the leafy West London suburbs to Ron's studio in Romford, Essex. On one journey home the the train stopped short of our destination – signal failure – it was late at night after a hard day's recording. We had to take a cab in order to pick up another train. As he dropped us off the cabbie said, "It's not every day you get Andy MacDowell in your cab!"
With the the first album complete we spent many hours in the McGovern house packing and sending CDs to everyone we could think of; radio producers, presenters and other celebrities, to little response.
Then Downton Abbey happened.
The Downton actors stopped the traffic on Broadway. It was a world-wide phenomenon. It was always odd at Sadie gigs to bump into Mr Bates, Anna, Mathew Crawley… Downton, it seemed, opened doors – to working with Grammy Award winning producers Kipper and Cameron Craig, tour the UK as support for Mike and the Mechanics, headline a US East Coast tour, and to appear with Sting at The Montreux Jazz Festival, sharing anecdotes in private backstage bar afterwards with Quincy Jones!